First Time In India : Country's Biggest Online Coding Contest. Register Now
Your Chance to Win Rs 5 Lakhs Per Month, Plus Claim Recognition as the "Best Online Coder"
Its time to earn some Huge Money, as Techgig's have announced for the First time in India the Country's Biggest Online Coding Contest. The Prize Money is fixed at Rs 5 Lakhs, Plus you get chance to get Noticed by Top Recruiters in India. The Registration for this test, is open for any one who is above 18 years of Age and there is No Registration fees for any one.
What is Coding Contest ?
A coding contest is one, which you will be given a Coding Problem to Solve by the Organisers. The Best part is that Contest is Online, so that you Can First Register and then Participate in the Contest at your own place.
All you need is to Register by filling the Basic Details in an online form that takes no more than 2 Minutes.
Why you Should Register for Coding Contest ?
1) IF you win this contest, you will get a Chance to Earn Prize Money of 5 lakh Rupee along with Recognition as India's Best Coder.
2) 27810 coders have already registered for the contest. So you have a chance to Enter the Semi Finals and Finals Round.
3) If you show your skills in this Coding content, the Employers will always have an eye on you, and they will select you for Coding Jobs in their Company.
Application Fees: This Contest is Fully Free of Cost and there is No application OR Registration Fees

How to Register ?
Those who are willing to apply and appear in the India's First Online Coding Contest, must apply online by following the steps given below.
1) First Click on the "Register Now" Button below and Start the Registration Process.
2) After that you have to Fill the form, that Requires you to Enter your Name, Email, Mobile No. and Password . In the Company field, choose any company.
3) After filling the Form, Finally click on the "Submit Button" to Register Yourself for this Unique Coding Content
Its Completed Now !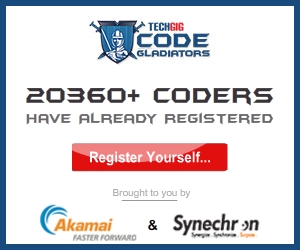 Get ALL the IBPS Exam 2012 Updates in your In Box